I got okra in my box last week, and am determined to use everything I get in my box each week so I set out to find a good okra recipe.  I found this one at Cooking Books, and it was a winner!  We were excited to see okra again this week.  I should try something new, but this was just so good…..(We didn't use the lime wedges)
And no week is complete without something from Mommy's Kitchen.  This cherry bread is a keeper for sure!  So pretty and delicious and looks like it took a lot more work than it did!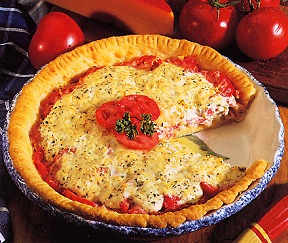 This simple tomato pie is a summertime staple around here. 
This smoky chickpea dip (I think of it more as a spread) was sure to be a winner around here- garlic, chickpeas, and smoky paprika?!  Three of our favs.
The first time I cooked flat iron steak, I cooked it into shoe leather.   This time, I did it this way and it was so so so good!  I marinated it overnight in olive oil, Dale's, and a little soy sauce.  It was really good!